Inspiration: Themes You Can Go For
Oct 5 2012
If you're like a lot of people, sometimes you just get bored with the same drab rooms in your home. The paint stays the same neutral colors, the furniture hasn't changed for the past ten years, and the only time new décor comes out is at Christmas. It doesn't have to be this way.
Start with an item that you love, be it a painting, vase, knick-knack, or even a hobby, and use that as your inspiration. If creativity is not your forte, however, then you've come to the right place. Here are some themes you can go for, which will hopefully inspire you towards the change you desire.
Era-Themed Rooms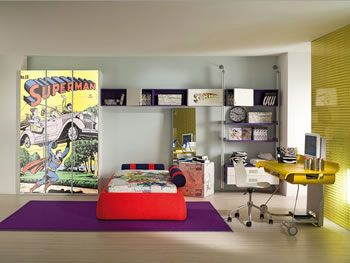 Era-themed rooms can be so much fun and can bring back a lot of memories.
If you were a 1970's hippie child, choose bright colors such as sunny yellow, bright oranges and turquoises and browns, paired against a white or black background. When looking at fabrics or wallpaper, think big, bold patterns of paisleys, flowers or geometrics. Retro furniture made of wicker or vinyl can be found at yard sales or online classifieds and look great on a fuzzy shag carpet.
Perhaps you're more in love with the affluent post-war times of the 1950's. Bright blues, yellows and reds were popular, but so were pastels such as mint green or lilac. Popular patterns were bold and images of fruit and flowers, checks and polka dots and look great when paired with teak Scandinavian furniture, or Formica-topped kitchen tables with vinyl chairs.
Collection-Themed Rooms
Collection-themed rooms are great ways to display your treasures, but don't have to only be used as a museum.
If you are a sci-fi fanatic, display your treasures in a sci-fi themed room. Think about placing neon strip lighting on walls and choosing shades of grey, purples or greens, paired with black. Furniture should be sleek and minimalistic, with lots of metals and chrome, which will look great if you choose to paint the galaxy on one wall (just stay away from glow-in-the-dark stars on the ceiling).
Maybe you are a world traveler and enjoy collecting items from around the world. Based on travel from earlier times, create a travel room using warm colors of browns and deep reds and heavy, textured fabrics. A collage of old passport stamps and travel stickers would look great on a wall, with old, worn suitcases or trunks displayed in a corner.
Children's Rooms
While typically the easiest to decorate, take your child's room a step beyond the pink walls or sports-themed wall paper border. Hiring an artist to paint murals on your child's bedroom walls can transport them to a world of make-believe of fairytales, jungles or professional baseball player.
Painting a little girl's room to look like a castle is perfect when paired with a canopy bed, flowing with light, wispy fabrics. A jungle room painted with trees and wild animals
screams of adventure
with a tree-fort bunk bed.
Creating a theme you can go for in a room doesn't have to be stressful. Choose one item and take it from there, letting the creativity flow.
What would be your ideal themed room?
Want to participate in the Blinds Chalet community?
View details
Post a Comment