How to Use Tapestries to Instantly Transform a Space
Sep 11 2012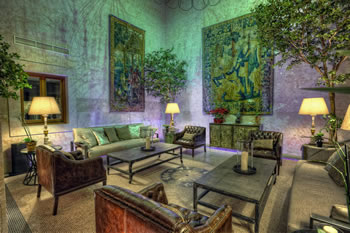 image
via
Introduction
Tapestries have graced homes for centuries. If you're lucky enough to have one or more tapestries, you can use them to instantly transform spaces in your home. Tapestries can serve as artwork, room dividers or as a means to disguise utility or workspaces. In many cases, you can perform the work involved yourself within an hour or so, and without spending a lot of money.
Large Scale Artwork
Do you have a large, blank wall over a couch or above a fireplace? Hang a tapestry to create a focal point to the room. The rich colors of a tapestry can pick up the colors of your upholstery or your floors. For smaller rooms, choose a tapestry with bright, sunny colors, while a darker tapestry makes a large room seem warmer and homier.
One bonus of using tapestries as wall hangings – they don't need frames. You can hang the tapestry directly to the wall or suspend it from a curtain rod. Another option is to apply Velcro to the back of the tapestry and to the desired location of the wall. This option may be more desirable if you don't want to put holes in the tapestry or hammer nails into your wall.
Two Kids, One Room
Almost every child who grows up with sibling's, dreams of having his or her own room. If that's not possible, use matching or contrasting tapestries to create the next best thing. Hang the tapestries back to back to divide the room in half, allowing each child to have a tapestry as a "wall" to his or her room. If your children are nearing or in their teens, let them have a say about the tapestry that you use to create their "walls."
Place Velcro on the backs of each of the tapestries to secure them to one another. Anchor your tapestries to the floor with nails or a weighted curtain rod to make the "walls" more secure. You may also allow the tapestries to hang freely to make it easier to lift the divider between the two halves of the room.
A Dramatic Headboard
You have a bed but no headboard? If you have a tapestry, you can create a headboard that brings warmth, richness and texture to your bedroom. . Hang a tapestry either vertically or horizontally depending on the size of your bed and the height of your ceilings. Choose a tapestry with a variety of colors so that it will match or coordinate with whatever bedclothes you choose.
Hang the tapestry directly on the wall. If you want the option of changing the tapestry, suspend it from a curtain rod anchored to the wall above your bed. If you don't want to put holes in the tapestry at all, find a picture frame large enough to contain the tapestry and hang the framed tapestry above your bed.
A Colorful Canopy
Another bedroom idea for a tapestry is to use it as a canopy for a headboard or bed frame with high posts. If you have a shorter, narrow tapestry, gently drape it across the posts of your headboard to create a colorful focal point to the room. If you have a large, room sized tapestry, drape it across all four posts of your bed frame to create the illusion of a four-poster canopy bed.
This option also does not require you to drive nails into your bed or put holes in your tapestry. However, since the tapestry is not anchored to either your furniture or your wall, it may not be the best option for a bedroom for a small child. On the other hand, using a tapestry as a canopy can create a dramatic focal point for a master bedroom.
An Attractive Disguise
Studio dwellers can use tapestries to help make the most of every inch of useable space. Attach a tapestry to a wooden room divider to create an attractive disguise for the jumble of papers and book in your work area. You can also use a tapestry to create a "closet." by placing clothing racks and storage units along a blank wall, then suspending one or more tapestries from the ceiling.
Author Bio:
Guest post contributed by Patrick Lapointe on behalf of
SwallowAquatics.co.uk
. Patrick has worked extensively in urban interior design. He is also trying his hand out as a freelance writer where he shares his design insights.
Want to participate in the Blinds Chalet community?
View details
Post a Comment