Outdoor Pool Area Remodeling Tips
Sep 10 2012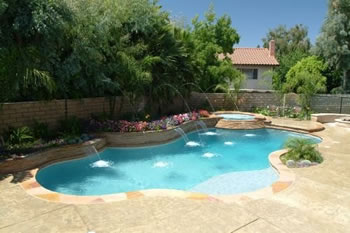 People in cities dream of having pools, but the lucky suburban dwellers with pools in their backyards often forget just how lucky they are, ignoring their pools, neglecting them, and failing to take advantage of the refreshment and joy they offer. There are a million reasons why this happens - not enough time, too much work, just plain forgetfulness. But certainly one reason people stop using their pools is simply because they grow bored of them. A little bit of remodeling in your pool area will make a big difference in how much you use the space.
There are a number of ways you can give your pool area a facelift. Brace yourself, though, many of these ideas or costly in both time and money. But when you are finished you will not have just made your pool a more relaxing, fun place to unwind, but you will have added tremendous value to your home.
Waterfalls
take pools from plain and boring to practically natural wonders. There are many different kinds of waterfalls, some of the best use local stones, and plenty use natural-looking fake stones for a much lower price. Water cascading into a lagoon style pool creates the illusion of a natural haven. You can add an underwater seating ledge for a bit of extra appeal - you can sit on the ledge as the water falls on you and your swimming mates.
Water slides
are not just for kids, they are for everyone! Adding a water slide into your pool will make your backyard feel like an amusement park and are fun for people of all ages. They come in a large variety of sizes and shapes. A straight shooter from the top into the pool is one way to go, but you can also get one with plenty of corkscrews and twists and turns. A basic slide is just a slide, but you can also get one that is built into the pool architecture with rocks and other landscaping tricks. Of course, you can only get a water slide if your pool is deep enough, so consult with the safety guidelines provided by your municipality.
Fountain bubblers
can be installed right into your pool and can provide a bit of drama to make your pool space more interesting. They are relatively inexpensive and are a big hit with kids.
A
fire pit
is a great way to take your pool area from a daytime space to a nighttime space. They range in size and shape, and can be custom built to perfectly meet your needs. You will need to choose between a wood burning or natural gas or propane fire pit. Many homeowners go with propane or natural gas because it does not require a major clean up like wood. But wood can be lovely, too, so think about what you like better.
Lighting
is a great way to boost the classiness of your pool area. There are a number of ways to change the lighting in your pool area, ranging in cost and installation time. Soft lighting can be done with some simple white lights strung through the trees. Alternatively, more permanent lighting structures can also be installed.
Paths and steps
leading to the pool can also be a great way to change the mood of your pool area from simply a giant bath in your backyard to a destination of its own. By installing even the most simple and basic of stone pathways, you can lure your family and guests out back into the refreshment of your now upgraded pool.
However you decide to make your pool area better, you will find that making one or more of these improvements makes your pool more inviting and feeling brand new.
About the Author: Danielle Samuels writes about
interior design in the North Shore
, where she enjoys decorating her own home and consulting with remodeling projects.
Want to participate in the Blinds Chalet community?
View details
Post a Comment