Unique Ways To Decorate Your Home WIth Flowers
Sep 5 2012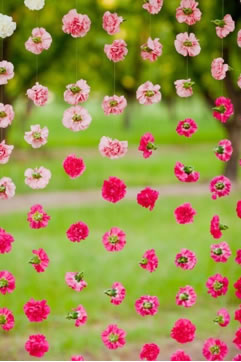 Filling your home with natural elements is a sure way to make it more peaceful and inviting. Even simple things like seashells, potted plants, and cool blue colors make a home feel homier. One way to add a touch of nature to your home is to decorate with flowers. It doesn't have to be bold, expensive, or difficult. In fact, decorating with flowers is more about simple touches that make a big difference. Here are a few ways that you can add floral elements to your home and make it more welcoming.
1. Floral material – I know that in a lot of decorating magazines and such they say that floral patterned material is passé. Well, the truth is that it can add a wonderful element to your home if you do it right. I am not recommending that your entire living room set be floral pattered, instead using simple hints of floral, like a single tulip print throw pillow, can add a touch of nature to your home. Modern floral prints are less like the classic busy ones you remember form your grandmother's house. Instead, they are sleek and bold, with bright colors and large amounts of balancing space. Take a look at the floral patterns available now and see what would fit with your decoration scheme.
2. Wallpaper accents –Now, I know you do not want an entire room or even an entire wall of floral wallpaper. That is fine; in fact that is outstanding. One thing that you can do to add a touch of floral to your home is wallpaper accents. Depending on the room and style of your house, this can mean anything from a bold, colorful design to a more subtle and almost subliminal addition. Adding wallpaper is very easy and can often add depth to a boring wall.
3. Curtains –Now, floral curtains come in two ways. One-way is the familiar one. The pattered material that you are thinking of. Sheer curtains paired with lightly pattered floral curtains are a great way to open up a room and make it feel sunnier. However, another way to add a flower curtain is to actually make a curtain from flowers. For a temporary addition, such as for a party or wedding, a flower curtain can be made from real flowers. Simply cut off the stems and use fishing line to string the flowers in attractive curtains of natural color. However, if you wish your flower curtain to be longer lasting, then use silk or other quality artificial flowers. You can even create paper flowers that look just as attractive.
4. Art –Flowers as art is a common theme, but for good reason. Pressed flowers in glass, dried flowers in a shadowbox, or even painted flowers in a classical painting give a room a natural touch. Another thing you can think about is wall decals. These large stickers are similar to wallpaper in that they are easy to apply and remove. However, they are usually of only a single object or image and add an Alice in Wonderland feel to a room. Great for homes with small children, wall decals can't be knocked off a wall or shelf and can't be eaten!
5. Plants – Potted plants and flowers bring two benefits to your home. Not only do they add a splash of the natural, but they also contribute to the air quality in your home by bringing in fresh oxygen and taking out carbon dioxide. The only downside to potted plants is the maintenance. Make sure the plants can survive indoors and water regularly. It is often dryer indoors than the plants are used to.
6. Floral arrangements –If you have been to a florist or large event lately, then you know how gorgeous floral arrangements can be. Even just a few flowers can brighten up a whole room and last for a week or more. If you have the money to purchase flowers on a regular basis, then this is definitely the way to go. Change flowers with the seasons and watch how your home becomes a reflection of the out of doors.
7. Silk flowers –If you do not have the money or the time to invest in fresh flowers, then silk flowers may be the way to go. Silk flowers look real but do not die or require the up keep of live flowers and plants. In fact, all you really have to do is keep the dust off of them. If you have a few arrangements for the different seasons, then you are set for a year of beauty in your home.
Adding flowers to your décor is a great way to brighten up your home. It does not have to be difficult or expensive. One of the great things about flowers is that a little goes a long way. Bring nature back into your life with flowers.
About the Author:
This guest post is contributed by Debra Johnson, blogger and editor of
http://www.liveinnanny.com/
. She welcomes your comments at her email Id: - jdebra84 @ gmail.com.
Want to participate in the Blinds Chalet community?
View details
Michael Robert Brown
Sep 14 2012
I've read some good stuff here. Definitely worth bookmarking for revisiting.
Stacy Williams
Sep 22 2012
Thank you, I have recently been looking for facts about this question for a while and yours is the best I have found so far.
Post a Comment