Getting Creative In The Garden
Jun 13 2012
Urban gardens typically have to make the most of their concise space. This can be challenging, but with a little creativity and a commitment to green garden practices, you can design a garden space filled with your personal style that also reflects earth-friendly sensibilities. The following five ideas will help you create the urban green garden of your dreams using repurposed and up-cycled materials.
Married to Purple
There's nothing like a patch of purple plants for soothing the soul after a long day in the city. Single color gardens provide a dramatic splash of color that will make your urban landscape the highlight of the block. You can accent your purple plantings (think lavender, catmint, salvia, and clematis) with some great vintage glassware transformed into garden props. Hit your local thrift stores or antique stores for purple vases, pitchers, and bowls. These can be attached to one another to form unbelievably beautiful birdbaths and planters. Take a vintage light fixture and remake it into a beautiful hanging planter for some Swedish ivy. If purple plants aren't your cup of tea, try red or white.
Zen-spiration Garden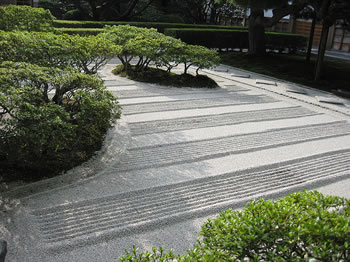 Asian gardens, with their carefully manicured appearances, blend exceptionally well with city landscapes. You can transform your city lot into a serene Japanese tea garden or welcoming Zen garden by adding Asian accents and elements to the space. Regroup all the gravel or mulch you used last season and reform it into a hardscape river—Zen gardens are famous for their rippling or swirling pools of gravel. You can also revamp all your old planters with Asian flair by decoupaging several with origami paper or painting them with Japanese characters for natural elements. Consider plants like Chinese lanterns, white pine bonsai, or Japanese painted ferns for your Asian-inspired garden.
Urban Courtyard Garden
A hardscaped garden and landscape is perfect for people who don't want to mow or get too dirty, but still want to enjoy an outdoor space that requires little maintenance. Check out tutorials for transforming cement with painted cobblestones or bricks. You can accent your hardscape with no-mow ground cover like creeping phlox. By repurposing old garden furniture with a fresh coat of paint, you can transform any space into a sophisticated courtyard garden. Old metal garden furniture can be given new life with a coat of black paint; with the look of wrought iron, this furniture can be paired with used planters that are also repainted black. Choose container plants that are easy to maintain like Boston ferns or chrysanthemums.
French Country in the City
You can have your own little touch of France in your backyard with some typically French plants and some up-cycled accents. Lavender, red poppies, and heirloom roses are quintessential elements of French gardens. Consider planting them in absolutely any old container you have; then, cover the containers with burlap—it's inexpensive and very green. You can even print Paris addresses or French ornaments on your burlap for added appeal. You can also collect tree limbs and branches to refashion into a makeshift arbor for your roses. If you have artistic tendencies or have a friend who is an artist, consider having a side of your building repainted with a scene similar to Monet's Water Lilies or a scenic Provence setting.
Vertical Garden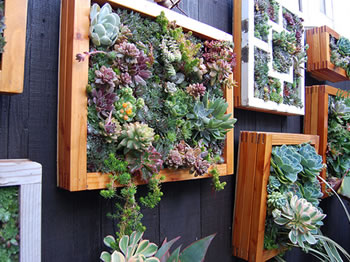 The city might sprawl, but urban real estate is all about building tall. If you don't have a lot of space, you can still plant whatever you like by using the vertical space in your landscape. You can repurpose scrap wood to build a terrace garden—multi levels of boxed plots filled with whatever you like—herbs, annuals, or even vegetables. Visit the salvage shops for materials like wood, metal beams, or cement blocks. You can repurpose these materials to make a pergola for hanging plants and vines or a trellis for climbing plants. If you have enough scrap wood, you can build tiers of decking to raise your garden even higher. You can also repurpose any basket into a hanging planter simply by buying some chains and S-hooks.
Achieving a green garden is simple when you allow your creativity to flow. Visit the library to browse the garden and landscape books for more design ideas. Sites like Pinterest offer lots garden images and tutorials to make green garden accents like homemade stepping stones or hip outdoor lighting features. Urban gardens are a great way to balance the steel and concrete of the city with green things that grow and green things you make.
Guest post contributed by Alison Green for
CamoTrading.com - Decor
specialists in all things camouflage. Alison is a landscape designer and in her spare time she enjoys writing articles to share her gardening tips.
Want to participate in the Blinds Chalet community?
View details
Post a Comment