How to get organized for a home improvement project
Apr 12 2012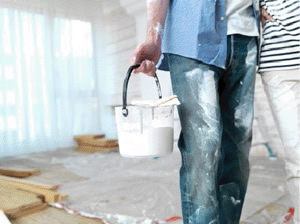 Whether professionals will be renovating your home or you'll be working on a DIY home improvement project, you'll need to organize your home furnishings and belongings. Getting organized for a home improvement project isn't easy, especially if you've let your home become cluttered and disorganized. Fortunately, if you go about organizing in a strategic manner, preparing for your home improvement project won't be too much of a hassle. Here are some things you can do to get your home organized:
Break Up the Work
You probably have a ballpark idea of when you want to start your home improvement project or when professionals will be coming to renovate your home. A few weeks before you know your home improvement project will begin, start cleaning and organizing your home. If you try to do it all at once, at the last minute, you may become overwhelmed.
Purge
Every day, starting a few weeks prior to when your home improvement project will start, try to get rid of at least three things you don't need. When you're getting rid of belongings, ask yourself if you've used them in the past six months. If you haven't, it may be time to get rid of them. A big part of having an organized home is having fewer possessions. So, be ready to part with some of yours.
Organize by Type
Once you've gotten rid of a good amount of things, you'll need to get everything that's left over organized so you can remove it from your house to prepare for the home improvement project.
Organize things in boxes, as you would if you were moving. Put things that are similar in the same box. For instance, you might put all of your bath-related products in one box. Label the boxes based on what's inside of them to make things easier on yourself when you unpack later on.
Find a Storage Solution
Once you've gotten rid of everything in your home that you don't need, you'll probably need to find a place to store all of the belongings and furniture you've held onto. If you have enough room in your garage, you can store your things there. If you don't have a garage or if your garage can't realistically hold all of your stuff, consider looking into affordable
storage units
.
Organizing your home before you begin a home improvement project isn't necessarily the most exciting or enjoyable thing you can do with your time. You'll be glad you did organize everything, however, when your home improvement project goes smoothly.
Author's bio: Lisa is a guest post writer on home organization, renovation, and how to get a deal on storage units. She uses
SpareFoot.com
to find the best storage unit deals in her area.
Want to participate in the Blinds Chalet community?
View details
Post a Comment