SmartPrivacy style of faux wood blinds provides more privacy and light control
Nov 21 2011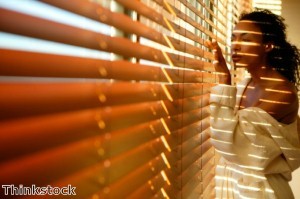 Faux wood blinds have the rich look of wood with the easy care of manmade materials.
For homeowners who want more privacy and light control from their
faux wood blinds
, the SmartPrivacy construction offered by Blinds Chalet will meet those needs.
"Traditional
routless blinds
have slats that can shift and come out of the blinds," the company's website explains. "Our SmartPrivacy blinds are designed with smaller holes that are concealed when the blinds are closed to keep the blind slats from moving. This provides tighter closure, enhanced privacy and greater light control than standard blinds with route holes."
The faux wood blind slats are also UV tested for more than 2,000 hours to make sure they will withstand heat and maintain their color. An easier lift and tilt to the blinds also makes their slats less likely to become scratched or dented.
The SmartPrivacy line is also moisture resistant, fire retardant and lead free. They have a low profile headrai, a trapezoid bottom rail and a cord tilt. Available colors are pearl and pure white.
For a limited time, Blinds Chalet is offering this line of faux wood blinds in a special sale that allows consumers to receive a free set of blinds for every three sets purchased.
Bookmark/Share this page: