Good construction is as important as beautiful design in key furnishings
Nov 14 2011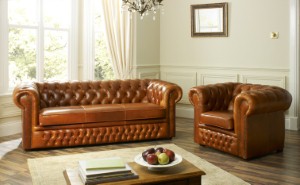 The construction as well as the style is important when selecting a sofa.
Homeowners need to consider the nuts and bolts of choosing a sofa as well as its decorative style if they expect it to stand up to the use it will likely get in the home of an active family.
The quality of the frame will determine a sofa's quality and durability. Hardwoods such as alder, maple and oak are preferred in couch construction. In addition, the lines of the sofa - its back height, style of arm rests and number of cushions - will determine whether a sofa can fit into a certain space and match the homeowner's style preferences.
There are two ways to make the sofa the center of attention it deserves to be - add brightly-colored pillows to liven up a neutral fabric on the couch or use a bold, unique sofa fabric to make it an instant focal point.
Choosing
window treatments
requires the same attention to function, as well as attractiveness. Durability and good design can go hand in hand as in Blind Chalet's range of
solar screen shades
, which limit glare on computer and TV screens and offer thermal comfort in all seasons. Currently, the cordless lift, Silverscreen
solar shades
are available at a reduced cost for a limited time.
Bookmark/Share this page: