Home fix-ups before guests arrive should preceed holiday decorating
Nov 8 2011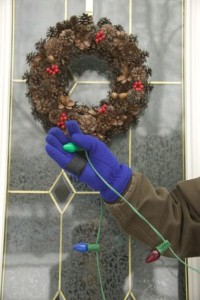 Before holiday decorations go up, homeowners should make minor repairs to ready their homes for visitors.
Instead of concentrating on holiday decorations, hosts of the DIY Network's show, "Brothers on Call," suggest that homeowners do a walk-through of their homes before guests arrive to make sure it's holiday ready.
TV home repair experts Jon and Terry Wittmaack told the Scripps Howard News Service that they would start in the bathroom. Their reasoning: with an overload of visitors, including those who may stay over for a few days, the plumbing may become overloaded if there is an undetected leak. Checking for leaks and drainage problems ahead of time may uncover something that's amiss.
While there, check the grouting in showers and other water-sensitive areas. If only a small area has to be replaced, the Wittmaacks advise misting adjacent grout that will connect to new grout for a seamless finish.
Before cooking big holiday meals, look for grease build-up under the hood over the stove, where a fire could occur, particularly on a gas stove. Clean it in advance to avoid dangerous mishaps, the brothers advise.
Clearing away clutter in the garage is a good idea before guests arrive, as there are bound to be additional containers stashed there, whether they are empty decorations boxes, hidden gifts or items removed from the house to make room for visitors.
It isn't necessary to repaint, but a few touchups here and there on scraped woodwork freshens the look of a room. Now is the time to walk around the house checking to see if woodwork or walls need a paint touchup. Nothing major - just a little touch here and there might be all that is needed to make the house look fresh, clean and ready for a party.
At the same time, look over
window coverings
to make sure they are managing light well, ensuring privacy where it's needed most and adding to the overall décor of the home. Blinds Chalet has a wide selection of
window shades
and blinds,
custom drapery
and energy efficient treatments that can meet all the design, functional and budgetary requirements of the homeowners.
Once the house patrol is completed, the TV fix-it brothers suggest that homeowners take a cue from party organizers and chefs who suggest cooking and baking as much ahead of time as possible.
Now, with cleaning, fixing and do-ahead cooking finished, full attention can be put on decorating the house, trimming the tree and making cookies for the family to enjoy while they get into the holiday spirit.
Bookmark/Share this page: