Choosing right fabrics for a room re-do is a designer's trick of the trade
Nov 7 2011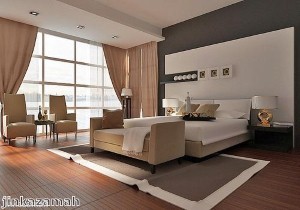 Custom drapery adds an elegant finish to bedroom decor.
There are a host of designer tricks that homeowners can use to make a simple, elegant change in their home décor, and choosing beautiful fabrics is one of them.
For instance, an upholstered headboard is an ideal way to use a fabric that can become a focal point of a bedroom re-do, but in a tailored way that dovetails with wood furniture next to it. Investing in high-quality upholstery fabric will provide durability in addition to a stylish new look that saves money in the long run.
"If you're going to create a DIY upholstered headboard, choose a solid fabric," designer Emily Henderson told HGTV. "It's a lot easier than making sure the pattern is perfectly straight."
Henderson recommends using neutrals for other upholstery projects as well, bringing in color with pillows in a variety of patterns and textures that can be changed periodically.
As a window treatment,
custom drapery
from Blinds Chalet provides homeowners with a wide selection of colors, patterns and prices to make the most versatile choice for their new décor. Ongoing sales and discount coupons add to the affordability of their draperies.
Bookmark/Share this page: