Faux wood blinds offer an attractive backdrop to homeowner's collection
Nov 2 2011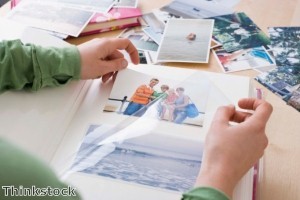 Choosing family photos for a display should take into account the image size and frame color to create a unified collection.
Home decorators should consider the size of their family photos when choosing a display area where they can personalize the look of a room.
"Small pictures look like visual noise on a wall," Minneapolis interior designer Andrew Flesher told RealSimple magazine. "But they can pump up the personality of an otherwise ho-hum table."
Using frames of the same material or color gives them the look of a unified collection. Keeping the frames at approximately the same size also allows them to be seen as a whole, rather than having one stand out and disrupt the unity of the display.
The idea to avoid hanging photographs on the wall isn't a new decorating rule. "Keep the framed photographs on the writing table, the dressing table, the mantel, but do not hang them on your walls," said the late designer Elsie de Wolfe, author of The House in Good Taste.
For a window treatment, the selection of
faux wood blinds
from Blinds Chalet offers wood tones and neutral colors that are an attractive backdrop to a photo collection. They are a practical and economical alternative to
wood blinds
. As a composite of man-made materials and wood particles, they retain the warm look of wood at an affordable price.
Bookmark/Share this page: