Long-term quality and 'smart' furniture are top trends at High Point Market
Nov 2 2011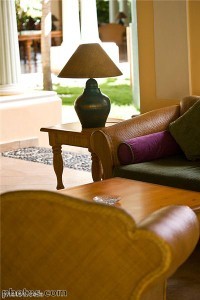 Furniture shown at the semi-annual High Point Market showed warmer wood tones and high-quality finishes on home furnishings.
Early reports from the semi-annual High Point Market in North Carolina, the world's largest home furnishings trade show, indicate that furniture manufacturers are responding to consumers' wish for long-term quality and multi-purpose home goods.
From bed pillows that are ergonomically correct to quality finishes inside furniture pieces as well as the outside where everyone will see them, YourHome.ca columnist Vicky Sanderson reports a continuing trend to make furniture that won't have to be replaced any time soon.
"Have you ever opened a drawer on a showstopper piece only to be disappointed by poor craftsmanship and lack of attention to the interior?" she writes in her On the House column. "Prevalent at High Point were gorgeous chests, desks, tables and consoles that provided ahhhhhh! moments when doors and drawers were opened. [One] dresser has a linen-look interior that's actually cleanable melamine."
Sanderson was helped in compiling her report with on-site observations from Canadian interior designer Lisa Ferguson, who travelled recently to see the 10 million square feet of furnishings displayed at High Point, where designers, retailers and others in the home design industry mingle twice a year.
Wood tones also are harkening back to the golden oak era of the late 1800s, replacing dark wood finishes that hide the natural beauty of the wood grain. Warmer, medium stains that allow the grain to peek through lends a textured look with what Sanderson calls "a collected-over-time feel.
"That's the same quality that
roman shades
can bring to a room. The selections from Blinds Chalet offer a variety of materials, textures and colors in this classic window treatment that coordinates as well with contemporary design as it does with traditional décor. In addition to ongoing sales and discount coupons, selected close-out roman shades from Blinds Chalet are now available with a special deal - buy three sets and get a fourth set free.
The well-established trend of multi-functional furniture has been moved up a notch at High Point this year. What began as double-duty pieces, whether they convert into bedding or fill different functions in children's room as the kids grow older, is now second-generation "smart furniture."
"Multi functional furniture - check. Next stop, smart furniture," writes Sanderson, who noted that one company is offering a line that has features such as a LED snake light hidden in a bedpost and a secret jewelry compartment behind a free-standing mirror.
Bookmark/Share this page: