Taking cue from colors around them, homeowners find ideal color schemes
Oct 28 2011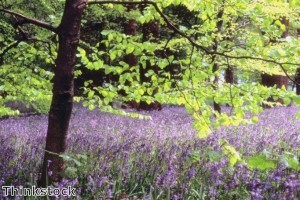 Home decorators can take their cue on color from nature.
Homeowners can take their cue on room color selections from the things around them - their wardrobe choices, nature colors and any combination of hues that has long been a personal favorite.
"Go with your emotional reaction to color, and build on it," advises IdeasForHomeDecorating.com. "Develop a habit of observing and thinking about a particular interior color scheme that appeals to you. Note the main color, then all the hues and tones."
Individuals need only look as far as their choices for clothing to see what their favorite color combinations are, according to the website. If those are the colors they feel comfortable wearing each day, they are more than likely going to be pleasing as a room color.
Inspiration from nature can be the greens and browns of a forest or the blue and sand colors of the seaside.
Wood blinds
are a particularly good choice for a window treatment when the color scheme is taken from nature because they reflect its natural tones. Blinds Chalet offers a wide selection of wood blinds with a number of ongoing sales - free upgrades and reduced prices on selected blinds - that make them affordable as well as stylish.
Bookmark/Share this page: