White as room's main color allows the eye to roam freely over the space
Oct 28 2011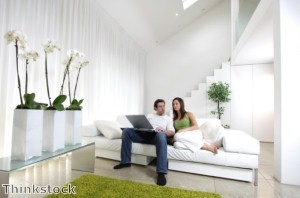 White creates the illusion of more space in any room.
White creates a sense of spaciousness and expands the look of a room even more when it's reflected off glass, mirrors and light sources.
"Bathing your room in white creates an illusion of boundary-defying expansiveness. [The color] allows the eye to roam freely over surfaces, stopping only at points of contrast," according to Better Homes and Gardens magazine.
The magazine recommends taking advantage of natural light by limiting
window treatments
in a small room to
window blinds
or shades only. Homeowners may want to consider choosing blinds that are the same color as the walls, which allows them to convey the impression of an unbroken surface.
A good choice for a window treatment that can be ordered in white with a finish that replicates the look of wood are
faux wood blinds
from Blinds Chalet. With ongoing sales, such as free privacy upgrades on selected blinds, Blinds Chalet also keeps its extensive selection of faux wood blinds affordable.
The magazine warns home decorators not to get so caught up in white décor that they forget to give the room a splash of color. Contrasting colors can highlight a focal point wall that guides attention to it and away from the dimensions of a small room.
Bookmark/Share this page: