Custom drapery can help create a good first impression in the foyer
Oct 27 2011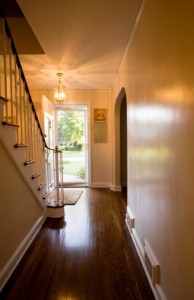 A home's entrance is where the first impression of the decor is made on visitors.
It isn't necessary to create a grand entrance in a home as long as the homeowner keeps in mind that a visitor's first impression is created where they enter - in the foyer.
"A foyer is a terrific opportunity to make a statement about who you are and what your house is like so you have to make it count," according to HGTV.
An unappealing foyer is one of the worst design errors that homeowners consistently make, the website contends. But to rectify those mistakes, a simple arrangement of furnishings is best.
Choose a surface large enough to hold the house keys and mail if that's the main entry for homeowners as well as visitors. Setting out a basket or decorative container for this purpose keeps the surface attractive and organized. The surface can be a small trable or a bookcase with a mirror or art work on the wall above it.
To tie nearby windows into the foyer's design, choose a simple
custom drapery
that lends texture and color to the space. Blinds Chalet has a wide range of fabrics, colors and patterns from paisley to stripes. The selection also is affordable because each free sample ordered by consumers are accompanied by a discount coupon.
Bookmark/Share this page: