Protecting hardwood floors with roller shades
Jul 2 2010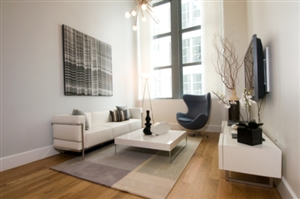 Protecting hardwood floors with roller shades
If they are treated right, hardwood floors have the power to make any room stand out. However, there are a number of things that homeowners should do to guarantee the longevity and finish of these surfaces remain pristine.
A basic step toward protecting your floors is to place mats by doors. That way, dirt and other debris is collected before someone steps into the room and has the chance to leave scuff marks across the wood, Wfca.org claims.
There are two primary tools for floor maintenance - a broom and a mop. The broom is good for preliminary cleanings, but the mop should be used to keep the surface glossy. To guarantee that your floor will still gleam, you should use a water-based cleaner. The news source states that this will renew the floor's luster without breaking down the wood material, like some chemical cleaners.
The website also suggests the use of
window treatments
that will block the sun. Harsh sunlight can rapidly darken or fade hardwood floors, so if you have an exposed room, it may be time to consider shades that can effectively block light.
Roller shades
are made from a soft fabric that is available in many different colors and patterns. Sunscreen and room-darkening varieties are available so you may want to make a decision based on the amount of sun shining on your floors.
Bookmark/Share this page: