Computer eye strain can be relieved with choice of window coverings
Oct 19 2011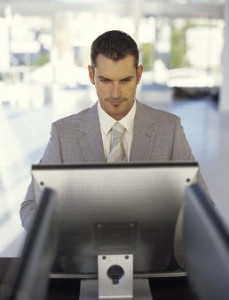 Long periods on a computer can lead to eye strain.
Constant computer use can create eye problems, but they can be remedied with a few steps, including the choice of a window treatment that reduces glare on computer screens.
According to Microsoft Home Magazine, computer vision syndrome (CVS) can affect both children and adults with symptoms that include dry or sore eyes, as well as headaches and blurred vision. However, giving eyes a periodic break during long stretches of computer use can reverse the condition.
One way to minimize CVS is to check for sources of glare on the computer screen. "The monitor acts as a mirror, reflecting shiny walls and light sources. Reposition it or use
curtains
,
window blinds
or special anti-glare screens to eliminate distracting reflections," the magazine recommends.
Vertical blinds
are an affordable choice for
window coverings
that can be drawn fuller to block light that is creating glare on a computer screen. Blinds Chalet offers a wide selection of wood grain, decorative and smooth verticals to match any home or office décor. By ordering a sample, consumers can get an exact color match to their needs and receive a discount coupon with each sample.
Bookmark/Share this page: