Wood blinds can be matched to art frames in a home's wall gallery
Oct 14 2011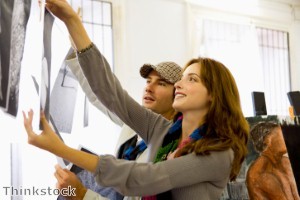 Home galleries can be personalized with photos and memorabilia.
Home decorators can be as creative as they choose when they decide to create their own wall gallery.
Postcards from their travels, family photos, beautiful images from calendars and magazines - all can be part of a personalized assortment of wall art, according to ivillage.com.
A wall gallery can take on the decorating style of the room it's in. For instance, a modern-style gallery should have artwork that is uniform, such as a collection of black-and-white photographs or contemporary illustrations by one artist.
For a more eclectic display, mix a wide range of styles and media. "Even if you're going for an eclectic effect, try to keep most of the pieces in the same basic palette, adding one or two contrasting images to keep the display dynamic," the website advises.
Nearby windows can reflect the woods used in art frames with the installation of
wood blinds
. The selection of wood blinds from Blinds Chalet bring a natural look to a room in both traditional and contemporary decorating schemes. They are available in white, black and a large variety of wood tones. In addition, the 2-inch Embassy wood blinds are currently offered with free decorative tapes for a limited time.
Bookmark/Share this page: