Entryways need a welcoming look during holidays and year-round
Oct 12 2011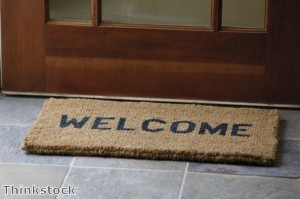 Creating a welcoming decor at a home's entryway makes a good impression on visitors.
As holiday time approaches, homeowners consider how to bring a welcoming atmosphere to the part of the house that visitors see first - the main entryway.
According to ScrippsNews.com, a seasonal arrangement can be put together for a bench, table or bookcase that may be located just inside the door year-round. Stair railings with a few sprigs or simple garland of greens can be decorated in a woodland-style with pinecones and cranberry picks.
For a look that will spruce up the entryway throughout the year, a pleated shade on a nearby window is a treatment that is particularly well-suited to a foyer. Frequently, non-rectangular windows are located near entrances, and Blinds Chalet's
pleated shades
can be outfitted to a wide variety of shapes. Affordable and attractive pleated shades stack tightly when raised to maximize an outdoor view but can be adjusted to any length to minimize sunlight damage to furniture and home accessories.
The website also recommends that additional holiday lighting in the entry area can be accomplished with a string of lights, or a lamp that's used year-round but with a decorative grouping of small, similar items – a collection of Santas, angels or snowmen – at its base.
Bookmark/Share this page: