Wood blinds from Blinds Chalet come in range of colors for bedroom decor
Oct 10 2011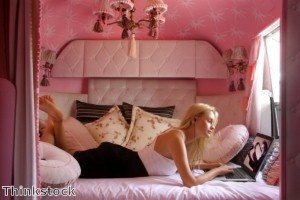 A tall headboard gives the illusion of height in a small bedroom.
There are no hard and fast rules about what kind of furniture or soft furnishings work best in a bedroom.
"Small-scale furniture only makes a small bedroom look smaller. Try a high bed and a tall headboard. Your room will grow," according to House Beautiful magazine reporting on tips from professional designers.
A hard wood captain's chair can be softened for bedroom use by adding a fabric skirt around the seat. It can serve as a seat for a dressing table or, with the addition of a footstool, can be a comfortable reading chair.
Wood blinds
are a classic addition to any room, particularly with such a wide range of colors and finishes available for them. For instance, Blinds Chalet's Sierra line of 2-
inch wood blinds
comes in three shades of white as well as a number of wood stains. Right now, they are available from Blinds Chalet with free rounded corners for a limited time.
Another bedroom decorating tip from House Beautiful is to use more than one pair of pillows as a decorative touch on a bed. Two pairs in contrasting patterns, colors and textures look more lavish without losing proportion.
Bookmark/Share this page: