Seoul home takes advantage of corners and hallways
Jul 1 2010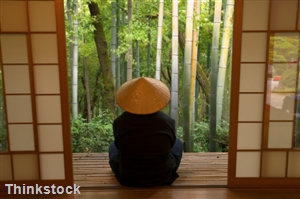 Seoul home takes advantage of corners and hallways
A couple has just completed their unique twist on a traditional Korean home, reports the New York Times. The house has the features of a hanok, a Korean-style home, such as a carved wooden door and pagoda-style roof, but its interior is very modern.
The home is U-shaped, with a courtyard that faces the sunset. In the middle of a courtyard floor is a window that looks into the basement. The husband, Simone Carena says that, when you're looking up through it, you see a "kaleidoscopic view" of the household.
"[It's] a puzzle of open views and hidden storage," he told the news source. Carena had a major hand in crafting the house, he emphasized the scenery that was visible in the area, even adding a small terrace on top of the kitchen that offers a view of South Korea's Mount Inwang.
However, having such an open home has had its drawbacks. Carena told the newspaper that one of the neighbors recently saw the family dancing in the kitchen, so he used a blind "for [the neighbor's] sake."
Others who have homes with open views may benefit from a similar solution.
Vertical blinds
are perfect for passages and sliding doors that look out into the yard or street, because they allow control over both privacy and lighting.
Bookmark/Share this page: