'No holes' construction gives pleated shades more privacy and light control
Oct 3 2011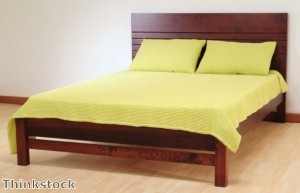 The light control and privacy offered by no-holes pleated shades is particularly good for bedrooms.
Most
pleated shades
have holes through the shades to accommodate the lift cords, and light can seep through them. But Blinds Chalet offers a style of pleated shades that have a "no holes" construction for complete privacy when the shade is drawn.
"Each lift cord runs through and extended tab on the back of pleat of the shades," according to the company's website. "This creates a pleated shade without any visible holes through the shades for added privacy and light blockage."
The light-filtering version of Blinds Chalet's pleated shades have a 3 percent openness factor to allow light to filter gently into a room. Room darkening versions block more light and provide additional privacy than standard pleated shades. Both are affordable as well as stylish.
Because of the unique construction of pleated shades, consumers will notice that the front of the blinds are thicker than the back when the shade is compressed. A slight tilt at the bottom rail occurs when the shades are lifted, but that doesn't hamper its operation at all or cause an unsightly appearance.
Both light-filtering and room-darkening pleated shades are available in a range of neutral colors as well as harvest gold, burgundy, gray and a softened green called mezzo.
Bookmark/Share this page: