Correct hanging techniques put the finishing touch on custom drapery
Sep 27 2011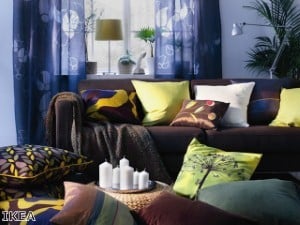 Custom drapery should be hung carefully to take full advantage of its sumptuous look.
Hanging
custom drapery
with extra flair is a specialty of home design consultant and writer Cindy Lee Bergersen.
"Curtains and
drapery
are not two words for the same thing," she told Hamptons magazine. "Drapery refers to loosely hung fabric that can cover an entire window or extend floor to ceiling and/or wall-to-wall."
She suggests keeping drapes about one-half inch off the floor to prevent wear and at least 4 inches above windows so the top hem will be hidden when light shines through the fabric.
Allowing drapery to "puddle," or gather in a soft, decorative heap on the floor, is most effective for stationary panels, but not for drapery that will be opened and closed often because dragging the fabric will soil it quickly.
When a room's heating comes from baseboards, drapery should be hung just above the baseboard and not over it, Bergersen told the magazine.
Blinds Chalet has a large selection of colors, fabrics and patterns in a variety of hanging options for its custom drapery - French pleats, ring-topped, grommet style and rod pocket drapes. By ordering samples, consumers can receive the company's discount coupons for a substantial savings.
Bookmark/Share this page: