Valances bring the gap between wood and soft furnishings in cottage decor
Sep 22 2011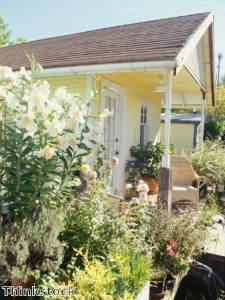 Garden themes are popular in cottage decor.
"Bringing the outdoors in" is a common catch phrase in interior design these days, but it's always been the basis of cottage-style decorating.
Two themes in particular - seashore and gardens - characterize cottage style by creating a light and airy atmosphere, according to CottageStyleDecoratingGuide.com.
To bring in the look of ocean, sun and sand in a beach-themed room, the website recommends choosing pale blue or yellow for wall colors, which can be offset by shades of tan in soft, upholstered furniture. Shells and other beach artifacts make attractive accessories in this room style.
A garden-inspired cottage decor usually has pale greens and yellows as base colors and deeper greens displayed through a collection of houseplants or artwork.
For both themes, the use of valances on windows brings architectural interest and bridges the gap between wood and soft furnishings. Blinds Chalet has a wide selection of valances that come in the whites and off-whites common to cottage wood trim. They are a good complement to shades, blinds or
curtains
.
Other elements of cottage design include ironwork and wicker benches or chairs. They can show some wear - scruffed-up edges on painted wood pieces, for instance - to give them lived-in appeal. Vintage fabrics are perfect choices for seat cushion covers.
Bookmark/Share this page: