Workplace sustainability can include faux wood blinds to manage light
Sep 21 2011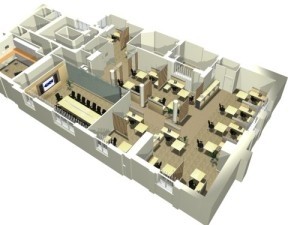 Open design with workstations along windows have become popular in many workplaces.
In recent years, workplace designers have embraced green construction and sustainability issues in a big way.
One energy-saving measure is to align individual workspaces with windows that bring in natural light, rather than relying solely on artificial lighting that drives up electric bills. Larger windows are being built to allow light to stream deeper into the workplace.
Managing the light source well doesn't mean designers have to sacrifice style.
Faux wood blinds
from Blinds Chalet emulate the rich look of
wooden blinds
with the added benefits of affordability and ease of care. They can be adjusted to let in full or partial light, and are available in a variety of wood tones to suit any office decor.
The trend toward open design in office layouts removes barriers between workstations and limits the number of private offices for managers.
Pennsylvania-based Knoll Workplace Research reports that more than 60 percent of the companies throughout North America have installed workstations to replace traditional office furniture.
"This trend is part of a larger shift away from the primacy of the enclosed office, often located on the perimeter wall, to a model in which the private offices plays a subordinated role, moving to the building core," according to Knoll.
Bookmark/Share this page: