New Design Star winner focuses on before-and-after design changes
Sep 16 2011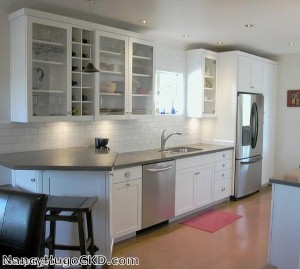 A counter extension can serve double duty as a breakfast bar and cooking prep space.
Before and after is what Meg Caswell does best, which may be one reason why she recently became the winner of the sixth season of HGTV's Design Star series.
It may also be the reason why the basis of her new show - winners are promised they will host a show of their own on the design channel - is showing audiences the before and after of a room makeover.
Some of Caswell's fixes have plenty of easy and affordable tips for home decorators to try in their homes. Some of her updates involve significant purchases or renovation, but many can be accomplished with a new paint job, a change in accessories or moving around furniture.
Caswell, a 34-year-old interior designer from Chicago, will feature her makeovers on the five-episode series, HGTV Great Rooms, which premieres on Saturday.
One of the makeovers involved taking a kitchen that was deemed "stuck in the 1970s," and adding new appliances, updating the lighting and adding slate-colored cabinets.
Just as the new slate color can be achieved with painting dated cabinets, the lighting of a room can be improved when the right type of window covering is chosen for the space. In a dark room,
roller shades
can be drawn fully to let in as much natural light as possible during the day and pulled down for privacy at night.
Blinds Chalet offers a wide range of affordable roller shades in a variety of fabrics, colors and degrees of light-filtering or room darkening materials.
Fabric roller shades
are a particularly good choice for bringing a new print or pattern into a room's design scheme.
One of Caswell's design lessons is to make sure the colors of a room carry into adjoining spaces in some way. She also advises home decorators who have collectibles to display them in one area for optimum effect rather than scattering them in various locations.
In one client's home, she gathered together the artifacts the family had collected on various trips around the world, but used ethnic prints and similar colors throughout the living area, kitchen and dining room to tie the three spaces together.
Another Caswell makeover included transforming a small kitchen with little counter space by the addition of a double-duty extension built onto one end of the galley space. The new peninsula-style counter serves as cooking prep space, a breakfast bar and shelves underneath to store cookbooks or utensils.
Bookmark/Share this page: