Blinds Chalet has window treatments that can cut computer glare
Sep 16 2011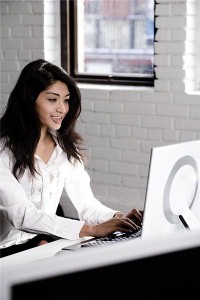 The right choice of window covering can eliminate glare from a computer screen.
Whether it's a laptop computer nestled in someone's lap, a desktop PC in a home office or a teen playing video games - no one wants glare to be part of the screen image they are viewing.
That's especially true for the increasing number of students, youngsters and adults, who are participating in online education, whether for college degrees, professional certification courses or secondary schools that have broadened their curriculum through internet services.
The number of college students in the U.S. taking at least one online course has grown by nearly 20 percent since 2007, according to U.S. News and World Report.
To stay focused, those who study or work at home should keep their desk as organized as possible. A work space that is comfortable with few distractions, good lighting and some privacy is an ideal way to stay productive.
Avoiding glare on a computer - and also TV screens - can be accomplished by installing the right window treatment from Blinds Chalet.
Solar screen shades
are among the company's choices to limit computer glare and protect heat-sensitive computer equipment from direct sunlight.
Bookmark/Share this page: