Bold hues are becoming the norm for kitchen wall colors
Sep 16 2011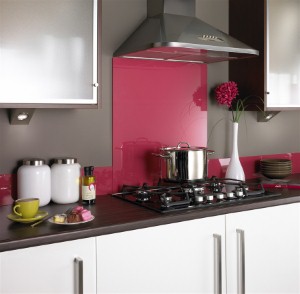 Bold colors coordinate well with stainless steel kitchen appliances.
Gray, deep purple and vibrant blue aren't traditional kitchen colors, but they - and other bold hues - are becoming more common as homeowners try to bring more color into their cooking spaces.
According to HGTV, strong colors are coming into their own to offset stainless steel appliances, as well as basic black and white kitchen fixtures that are the mainstays of kitchen design. They also are good companions to the darker woods that have become popular in cabinetry in recent years.
"Most kitchens have minimal wall space, so it's a good place to splash some bold color and make a statement without overpowering the room," designer Jamie Drake told the website. "People are viewing kitchens that have too much of any one color as flat, so more color is definitely the way to go."
One way to tie cabinetry into kitchen
window treatments
is to install
wood blinds
in a matching tone. Blinds Chalet offers high quality wood blinds in a wide variety of finishes. With discount coupons and ongoing sales, these
window coverings
are also very affordable.
Wood blinds also add texture to kitchen décor and can be offset by prints and patterns in
curtains
chosen to tie in the wall color.
Bookmark/Share this page: