Both homeowners and furniture designers are making resourceful choices
Sep 13 2011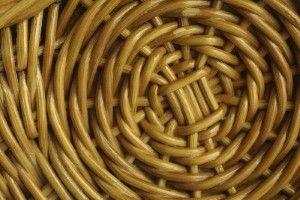 Wicker weaving is one of the old-time skills being revived by designers.
In a troubled economy, homeowners have learned how to make decorating choices that make the best use of their resources. At the same time, designers and furniture manufacturers are responding to those needs.
Ecology is influencing the manufacturing techniques used to make furnishings and home décor products. The trend shows itself in natural shapes, untreated materials to give a natural look to home goods and designs inspired by crafts from past eras. A new generation of designers is reviving old-time skills and craftsmanship for contemporary home styles.
"A new interest in crafts from the past, including milling and wicker-weaving are evolving. A new organic look is being created, which nature captures in all its forms, characteristics and materials," according to Cosmoworlds.com.
For
window treatments
, energy-saving coverings such as
solar screen shades
are becoming a popular selection because they improve temperature and draft control in a room. They also limit glare onto television and computer screens.
Blinds Chalet has solar screen shades with weaves that vary according to how much light will be allowed in a room, as well as a wide range of colors to match any décor. An ongoing sale offers 30 percent off the company's selections, which makes them affordable as well as functional and attractive.
Bookmark/Share this page: