Starting with a simple plan, homeowners can move forward with room re-do's
Sep 7 2011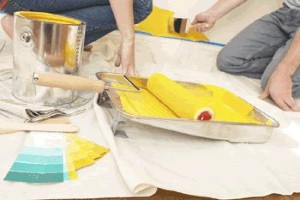 After decluttering and determining a design plan, choosing paint colors should come next in a room makeover.
When Florida interior designer Wrenda Goodwyn speaks to audiences about decorating their homes, she hopes it will help them get started right away.
"I always offer some tips that my audience can actually go home that day and either try them out or include them in the decorating plan in their own homes," she told the Fort Myers News-Press.
But the best quick changes are those that are both stylish and functional, as well as affordable. For starters, Goodwyn advises homeowners to do two things - come up with a plan that's simple and direct and declutter the areas that need a makeover.
Start small by ridding the refrigerator of magnets or tackling the years-old stack of magazines. Then assess rooms to see if there is furniture that can be removed from spaces that are too crowded.
Thinking through a design scheme means dealing with color first. "Color is a decorator's most valuable tool and it can be yours as well," Goodwyn told the newspaper. "Follow this color rule for distributing color and you can't go wrong - 20 percent walls, 30 percent furniture, 10 percent accessories."
Beyond the initial stages of decluttering, planning out a design scheme and choosing colors, establishing a focal point is also important in the early stages of a design change.
That focal point can easily be a window treatment that addresses light streaming into a room, privacy issues and how well the colors and textures of the window covering coordinate with other design elements. Blinds Chalet has a wide range of
window shades
and blinds, as well as
custom drapery
that can create an ensemble befitting a focal point. With promotional discount coupons and ongoing sales, the company's website outlines how home decorators can choose
window treatments
to fit any budget.
When homeowners shop for accessories they should consider long-term quality, not short-term trends. Purchases need to be made carefully and quantity counts – over-accessorizing can ruin the overall look of a room.
Goodwyn has a number of quick hit rules that are part of any room re-do, large or small. They include grouping collections together instead of scattering them, using the same color and style frame for all photos on display, getting rid of standard door knobs and electric switch plates and hanging chandeliers no lower than 36 inches above a table.
"Accessories make a room," she said. "Your accessories should reflect your personal decorating style."
Bookmark/Share this page: