Choosing art work should focus on what homeowners like best
Aug 26 2011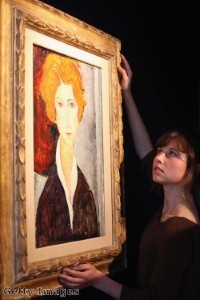 Art work doesn't have to be a masterpiece to have a special place in a homeowner's room design.
Choosing what they love is the only rule that homeowners should follow when they are making a decision about outfitting their homes with art work.
"People get intimidated on the subject of art," according to Philadelphia interior designer Donna Hoffman. "Frankly, there are no hard fast rules when it comes to purchasing art, except this one: Buy what you love and, if possible, buy it when you see it."
In a statement, Hoffman outlined her advice for selecting art work that will complement a home design scheme best.
First, home decorators should review the art pieces they already own. Moving move them around to different places in the house or reframing them for a new presentation will bring a fresh look to a room, Hoffman said. Once they've surveyed what they have and how well the art looks in its new location, homeowners can decide whether to purchase additional pieces.
The same may be said of choosing
window treatments
to create a new focal point for a space. Blinds Chalet can advise homeowners on function and affordability as well as the unique characteristics of a particular blind or shade so they choose the best window covering for their homes.
In Hoffman's view, homeowners shouldn't be afraid to venture beyond a traditional definition of what is considered artistic. "Think beyond simply prints or oils hung everywhere," said Hoffman. "You can also hang wonderful pieces of architectural salvage - grates, grillwork, wrought iron, even heavily carved wooden doors with an ethnic bent."
Presentation is a key feature in rejuvenating the art scene in any home. Hoffman advised homeowners to diversify the ways in which they present their art. For instance, vintage handkerchiefs handed down through a family may be more effectively displayed in a shadow box than in a traditional frame.
"Do try to avoid having every piece of art behind glass if possible," she said. "Oils, mixed media pieces and sculptures create much needed nuanced textures to offset a sea of glass."
Finally, an individual's personal interests should be reflected in the art they choose to showcase in their homes. The personal value of an art piece may outweigh its economic value, and should be embraced for the meaning it brings to the homeowner.
"Must it be museum quality, collector quality or cost tens of thousands of dollars? Absolutely not," the designer said. "Beauty and aesthetic pleasure are so individual."
Bookmark/Share this page: