Temporary makeover can keep family home stylish until renovation occurs
Aug 19 2011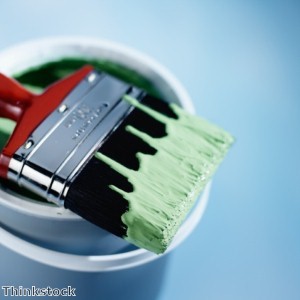 Before a home renovation takes place, small-scale improvements can make a house stylish.
Character is what sold Australian interior designer Joanna Everitt and her architect husband Justin when they sold their home to purchase a mid-century, hillside house with views of Perth's skyline and river.
The West Australian reported that until they build a second story to the 1950s-era home, the temporary makeover they've done throughout the house will reflect the dwelling's period and their personal taste.
"I've done the whole 'new [house] thing' but I would choose the older home every time because it's got more character," Everitt told the newspaper. "We haven't done any major renovations inside - it was just painting and dressing it up and adding different touches."
Painting architectural features such as ceiling beams and worn brick walls a fresh white allows Everitt to bring in any color for accent, such as the bright blue corner chair in her living room. Additional bold colors in pillows pop against the neutral upholstery of her sofa.
"Starting off with a very plain palette, you can then add color with your furniture and accessories," she said.
Window treatments
also allow homeowners to create a focal point with color and different textures by pairing
window blinds and shades
with
custom drapery
, or leaving them as the sole covering. For instance,
pleated shades
from Blinds Chalet work well by themselves because they are stylish as well as functional. They are available in a range of sophisticated colors and also different weight fabrics.
"Whether you prefer room darkening pleated shades or a set that lets a little bit of sun to shine through, there's bound to be a window treatment that will suit your needs at Blinds Chalet," states the company's website.
But Everitt is quick to warn homeowners against using bright colors on permanent fixtures or finishes that will take a lot of work to change back. "Obviously paint is quite easy to change but things like splashbacks or tiles you should really keep quite simple," she told the Perth newspaper.
Everitt also isn't reluctant to bring into the house some outdoor furnishings or accessories normally associated with patios, it that's what reflects her personality best.
"You don't need a lot of money and you don't have to have what everyone else has got to have something quite striking and different," she said. "If it doesn't feel like a home to you then I think you've lost the whole purpose."
Bookmark/Share this page: