Blind Chalet's Art Guild curtain rods and finials are an elegant hardware set
Aug 16 2011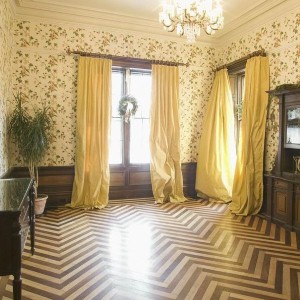 The hardware for custom drapery is important for a polished window treatment.
Just as important to the finished look of
custom drapery
is the choice of hardware that is chosen to offset the colors and fabrics of the window treatment.
The Art Guild Rod line of
drapery hardware
from Blinds Chalet features finials in the Old World style of capuccino-colored ceramic vases, delicate blue ceramic fluted vases and the richly detailed Morrocco ceramic vases.
"Available in a variety of finish colors, each art guild metal curtain rod comes complete with adjustable metal
drapery
rod, two finials of your choice, magnetic brackets, and mounting hardware," states the company website. "Double rod set available upon request."
The finials are made from natural materials such as recycled metals, ceramics and glass. The 1-inch metal rods come in four finishes - brushed nickel, burnished copper, matte black and oil-rubbed bronze.
With discount coupons offering 30 percent off, the Art Guild selections are both elegant and affordable accents for Blinds Chalet custom drapery sets.
"Choose from a wide selection of drapery hardware that is sure to accent any home décor," states the website. "We offer curtain and drapery hardware for any application. Each style comes in a variety of colors, stains, and finishes."
Bookmark/Share this page: