Improved products and decorating samples help consumers conquer design fears
Aug 12 2011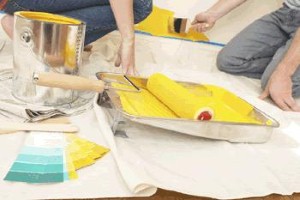 Consumers should take several paint chips home and consider them in different lighting situations before making a final choice on color.
Interior designer Marlene Pratt, who co-founded CasaLatina.com, doesn't believe the fear that home decorators have about painting comes from simply picking the wrong color.
"In my years of experience, I have discovered that deciding in favor of color is not what people fear the most," Pratt told the Epoch Times. "Rather, most angst comes from not wanting to pick the wrong shade of a color and then being forced to do the project a second time."
What most homeowners don't realize is that along with the multitude of colors that have been developed by paint manufacturers, there have also been a number of changes made in paint chemistry. Using high-gloss paint is no longer needed for many jobs - although still preferred in kitchens and bathrooms, where moisture accumulates - because today's paints allow easy cleanup with flat or low-sheen choices.
"Finishes have come a long way. The surface of your walls no longer needs to be reflective to be cleanable," said Pratt. "Simply put, today's paint is very people-friendly. The smells of the past are gone, as well as the unwanted reflection from every direction."
Once they are past the fear of doing the job right, Pratt said consumers still have to deal with color selections from dozens of shades in one hue. She suggested they take six to eight paint chips in different shades of one color, tape them together and hang the combined sample on the wall to get an idea of which looks best.
"Walk by it for a day or so, making sure to view it at three different times of the day - in the morning, in natural sunlight, and in the evening with room lighting," Pratt told the Times. "If you are content with all three stages, then guess what? You have found your color."
The same approach can be taken when home decorators are choosing other colors, or even textures, for soft furnishings such as
window treatments
. Companies such as Blinds Chalet offer samples so consumers can see a certain window blind or shade paired with furniture wood tones, wall colors and upholstery patterns that make up a room's design scheme.
"We are confident that if you order our samples and see our quality, you will order from us," states the company's website. "For this reason, we offer a special promotional coupon that will accompany each sample request."
Bookmark/Share this page: