Tuscan style brings warm colors and textures to a relaxing bedroom
Aug 3 2011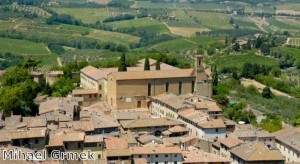 The amber tones and textures of Tuscany can create a relaxing atmosphere for a bedroom design.
Bringing the warmth of the Italian countryside into a bedroom is one way to ensure a tranquil and stylish setting for a good night's sleep.
Tuscan colors, a wide variety of antique yellow, amber and gold offset by dark wood tones, can convey the rustic feel of this style, according to The Epoch Times. Cream-colors walls also work well as a backdrop with splashes of these traditional countryside colors.
Textures also are important, from throw rugs made of natural fibers to light cotton Tuscan style
curtains
for windows. To offset the breezy look of cotton, Blinds Chalet offers a variety of textured Tuscan-style
window treatments
, from
cellular blinds
to roman
bamboo shades
. With frequent sales and coupon discounts, home decorators can achieve a Tuscan-style room at an affordable price.
Wrought iron accessories, such as a wall rack or candle holders, are another Tuscan touch. "A bench or blanket chest at the foot of the bed can also add a functional and visually appealing touch," states the newspaper.
A botanical print for art work and family photos add character and a homey look to a room that's intended for relaxation.
"Functional and simply styled lighting usually works best, such as an iron base lamp with a simple cream-colored shade," advises the Times.
Bookmark/Share this page: