Control light with cordless top down bottom up shades
Jun 30 2010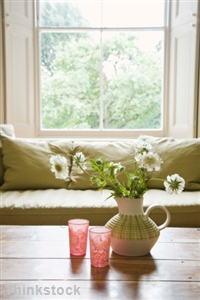 Control light with cordless top down bottom up shades
Shades traditionally offer two options - either the window is covered or it isn't. This can be fine for privacy, but sometimes a shade can end up blocking too much incoming light. There can be times when one wants to allow different angles of light into the home and
cordless top down bottom up shades
do just that.
These shades can open from the top or bottom, while filtering light on either end as well. This means that, if the sun is creating a glare on a screen or in your eyes, it's possible to fix the problem without sacrificing the room's natural illumination.
Interior lighting experts at Bed Bath and Beyond suggest that another advantage to the top down bottom up design is if a room's mood requires a variety of lighting effects. Using light as a decoration can highlight the comfortable corners of a room and you can control the angle of the illumination for the whole day with these shades.
Child safety is another factor to consider when looking at shades and other industry experts recommend cordless products such as the top down bottom up. It also guarantees that a child can lift the shade and peer out the window without tearing it down or being exposed to the risks of a cord.
Bookmark/Share this page: