Custom drapery, paired with roller shades, creates a stylish, functional combo
Aug 1 2011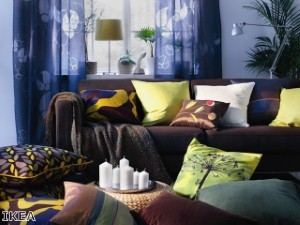 Custom drapery can hide a room's architectural flaws.
In homes where the windows are small and the ceilings are low, there is a solution and it's called
custom drapery
.
"
Drapery
can work magic," interior designer Cindy Lee Bergersen writes in Hamptons magazine, noting that drapes can be an all-purpose fix to the most oddly shaped windows.
Combining drapes with an underlying roller shade also allows sunlight to be controlled easily and privacy addressed as needed. Fabic
roller shades
can be coordinated with drapery in many colors and patterns.
To make a window look larger, brackets for drapes should be placed three to six inches outside the frame and by extending the curtain rod further in proportion to the wall size.
"If there isn't a lot of wall between the window frame and corner, extend the rod to the wall and apply end caps instead of finials," advises Bergersen. "Use a couple of rings on the far side of the end brackets to help evenly distribute the fabric."
When a curtain rod is placed at the ceiling line, it makes a room look taller by increasing the vertical line of the room. To create a focal point in a bedroom, drapes can be used behind a bed to coordinate with drapery on windows.
If a room is particularly dark, Bergersen says there's an old trick that home decorators can borrow from set designers. "Use a creamy colored fabric for the outer curtain and a yellow fabric as lining," she writes. "This trick makes the incoming light appear more sunny. "
One of the great advantages of having custom drapery made is the wide selection available in fabrics, colors and patterns to complement a homeowner's current room décor or to help devise a new look altogether.
"Great window dressing can take a room from generic to gorgeous, without further ado," Bergersen states. "It's the fast track to supporting a pulled together look.
But just as
window treatments
can make a small window look larger, the designer cautioned home decorators from using too much drapery, and accompanying pieces such as valances, cornices or swags. Not only can a small room become overwhelmed by an elaborate window covering, but the same can be true when a large room has several windows.
"If overdone your drapery solution can easily become the drama queen of the room," Bergersen warns. "Classic and understated are good adjectives to fly with."
Bookmark/Share this page: