Go all out in the guest room with the right cellular shades
Jul 29 2011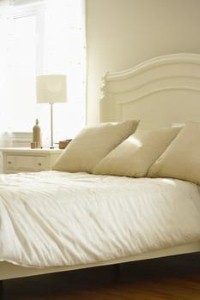 Make your guest feel welcome in a gorgeous guestroom with cellular shades for privacy.
Those with an extra room in the house are lucky enough that their guests can be comfortable in their own private space without having to sleep on the couch. For homeowners, having a guestroom is also a great way to showcase their style, whether traditional, contemporary or eclectic. If you have an extra room that you're thinking about making over, you might want to start with the right
window treatments
.
Cellular shades
, for instance, come in a variety of colors to complement your aesthetic. For simple shades, opt for a set of white that can instantly blend in within a contemporary setting. For a pop of color, dress up your cellular shades with drapes.
Besides being beautiful window treatments, cellular shades are also practical addition that your guests will appreciate. They can easily pull down for privacy or up so they can see your beautiful garden or yard while letting the warm glow of the sun shine in.
Bookmark/Share this page: