Roller shades in a neutral color convey UK designer's style
Jul 29 2011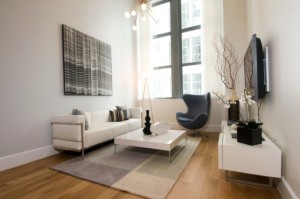 Subdued, but interesting textures and colors are the focus of a UK designing couple's style.
Chances are, if UK interior designer Atlanta Bartlett is choosing a new window treatment, she'd gravitate to
roller shades
in a neutral color.
In Bartlett's own home, the toned-down appeal of her design style is in the choices of white walls, natural hues such as brown and tan, cushioned furniture and bleach wood floors.
But as she told the Manchester Evening News, an air of tranquil informality is exactly how Bartlett and her designer husband David Coote, wanted their Kent dwelling to feel.
"We both have a relaxed, simplistic attitude to interior design and believe that our homes should reflect our personality," Bartlett told the newspaper.
In the kitchen, for instance, Coote chose a number of reclaimed items - recycled wood, vintage cupboards - to give a retro style to their home's center.
The two have a new book, Pale & Interesting, that reflects a decorating style that Bartlett calls calm and unpretentious. Roller shades, for instance, convey just that style as a simple window covering that goes with virtually any accompaniment - lacy
curtains
, a wood valance, or by itself in a wide range of colors and patterns.
Bookmark/Share this page: