Wood blinds can add to your home's rustic appeal
Jul 28 2011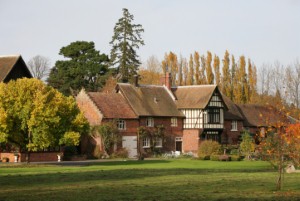 For a rustic, cottage feel, opt for wood blinds.
There's a certain charm to rustic homes and cottages. It could be the minimal design that brings out a cozy atmosphere, or it could be the wood detailings in the home that creates an organic feel in any room. If you prefer this aesthetic in your own space, you might want to install
wood blinds
to accentuate a rural interior design.
Not only are wood blinds beautiful additions to any room in the home, they are also practical installments, allowing you to pull them up for natural illumination or down for privacy. Best of all, these
window treatments
can easily be paired with simple drapes to complete the rustic setting.
Wood blinds also come in a variety of colors and flavors, so there's bound to be a set to complement your existing home decor. For a warm and cozy look, opt for wood blinds with dark stains. Those painted in white, on the other hand, can be the perfect way to add brightness to a cottage-inspired room.
Bookmark/Share this page: