Bamboo roman shades can be integrated into design plan for outdoor spaces
Jul 27 2011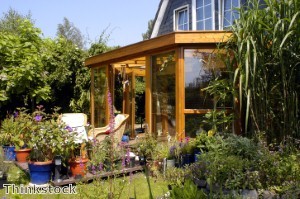 Home decorators can liven up their outdoor spaces with well-chosen color combinations.
There are as many styles of furniture and accessories for outdoor living as there are for indoor décor - including
bamboo roman shades
for sun protection - but homeowners can simplify their choices by starting with a plan for their patio or deck design.
"By narrowing down your decorating options by color pairs, you give yourself the ability to make a quick decision about cushions and accessories for your patio," design writer Alyssa Davis wrote in The Epoch Times.
For a bright, summery motif, home decorators can pair bold yellow and orange with metal or wrought iron furniture. A touch of sky blue is a good complement and tones down the brightness when something more subdued is desired.
For a more classic look, the newspaper suggests a navy and tan combo that can be a mix of solid cushions and outdoor rugs with patterned pillows. This pairing has an understated look that goes well with wood tones and wicker.
Integrating bamboo roman shades into the design plan, attached to the side supports of a patio or deck provides protection from the sun and privacy during outside lounging. They have a natural, varieated look that goes with both contemporary and traditional décor.
Bookmark/Share this page: