Mother and daughter design team takes distinct approach to create unique looks
Jul 26 2011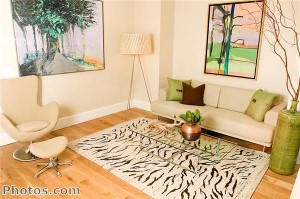 Art work and unique accessories give rooms character.
It took a while for interior designer Carolyn Einstein Dewar to find her calling, but when she did, she had a ready ally in her newfound profession – her mother, Diane Einstein, a veteran of the San Francisco design community.
Dewar left a career in advertising and marketing to join her mother in the Einstein Design Group and a design buying service called Access Décor. "I'm always debating whether I should call her Mom or Diane when we are with clients," she told the San Francisco Chronicle.
The two women have distinct ideas about what will turn a room into a space that's unique and personalized to reflect their owners personalities. For Einstein, art work is the key; for her daughter, trying new fabrics such as versatile outdoor materials, is a sound functional choice.
"For clients looking to protect their furniture from sticky fingers or careless guests, we love to incorporate outdoor fabrics. The industry has really come a long way from the typical outdoor stripes," Dewar told the newspaper. "With so many new wonderful patterns and textures made for indoor/outdoor use, now you don't have to compromise or sacrifice beauty for durability."
Her mother takes the aesthetic approach. "Art can make a room come alive. It can be the finishing touch that pulls the entire room together," she said. "I recommend taking an art piece home on loan so you can see how it feels in the space."
For Dewar, adding an element of surprise to a room is an ideal final touch. "I love to add one thing that's unexpected in a room, whether it's a pop of color or an interesting, unique material," she explained.
That surprise element can be in the choice of a window covering that is both functional and stylish, and complements the colors and textures around it.
Wood blinds
, for instance, are a versatile choice for a window treatment, with a natural look that's a good match for both contemporary and traditional styles of décor.
Einstein also reminds clients that some of their most memorable accessories may be those they happened upon and didn't cost a lot.
"You don't have to be rich to accessorize your home well," she said, recalling a $15 wooden water buffalo she found during a trip to Vietnam. "It's whimsical and adds character and warmth. It's also a wonderful reminder of my travels and makes me smile."
Bookmark/Share this page: