A bamboo roman shade can be part of a high quality design scheme
Jul 20 2011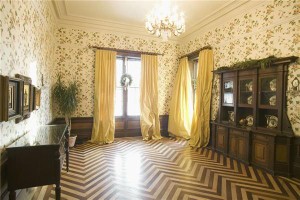 Buying high quality window treatments is one of the suggestions that interior designer Stacey Tapinis makes to her clients.
Interior designer Stacey Tapinis always tells her clients to spend most of their decorating budget on a quality sofa, impressive
window treatments
and a good paint job.
And she sees the same mistakes being made again and again - rugs that are too small, an overabundance of accessories and amateurish house painting.
"Rugs should anchor a room and be big enough to fit the space," Tapinis told Patch.com. "I also see too many accessories. Get one of two statement pieces. Arrange spaces to reflect how you really live."
Tapinis, who runs the interior design shop From House to Home on Long Island, New York, also warns home decorators away from emphasizing the living room in their design scheme, when they spend most of their time in other rooms.
"No one is doing the roped off living room look now," she told the website. "Decorate your bedroom and your family room - that's where you spend your time."
Choosing a great window treatment, whether it's a simple roller shade or an eco-friendly bamboo roman shade, can be part of a current decorating trend to layer different textures within a room, Tapinis said. The effort will draw attention to one of the designer's favorite focal points in a room, a well-coordinated window covering.
Bookmark/Share this page: