A bamboo roman shade can bring balance to a window with bold drapery
Jul 19 2011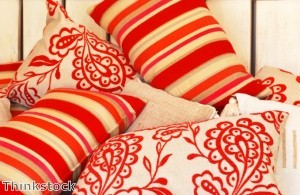 Home decorators should mix bold colors with lighter or softer hues for the best effect.
There's a reason why homeowners shy away from using bold colors, whether by adding a splashy hue in a window treatment or painting an accent wall to heighten the look of a room.
According to the Associated Press, home decorators might consider brightening an alcove, an underused corner of a room or a stairway instead of a whole wall for accent.
Interior designer Brian Patrick Flynn, founder of DecorDemon.com, told the AP that home decorators can escape a predictable look by choosing three colors instead of two for a combination.
"If you really want chocolate brown with pale blue, which has been done to death, then add something like celery green," he advised. "It's fresh and you've made it your own."
Adding wood tones to a room also takes the edge off a bright color. Using
wood blinds
or
bamboo roman shades
adds balance to a bold tone. For someone who prefers neutral walls, using a colorful window treatment is one place where bold colors can be incorporated for accent.
Boldness doesn't have to be bright, either. An intensive color can be toned down to a dusty shade with a touch of gray or beige added to the paint mix.
Bookmark/Share this page: