Create a screened-in haven with breezy window treatments
Jul 15 2011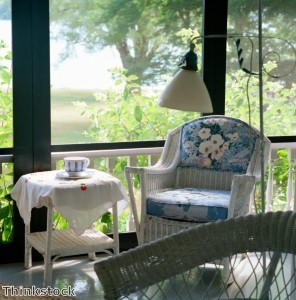 Create a screened-in haven with breezy window treatments
As the summer goodness continues to roll over much of the country, you may be considering ways to update your old screened-in porch to create a space that will give you a wide array of leisurely options - whether you wish to enjoy the sudden thunderstorms, curl up with a good book after spending the day at the beach, or even have family game night surrounded by a sea of candles for added ambiance.
A porch can be a great addition to any home, and it works as an extra room, providing a place to let natural sunlight cascade in with ease.
The style experts at Better Homes and Gardens magazine break down their favorite porch styles as a way to implement such designs in your own abode.
How to make your porch stand out in various designs.
1. Rustic.
To create a porch that feels like you've brought the outdoors in, make the look authentic through accessories. Make a sitting area that's unique - consider purchasing (or building from scratch) benches and add a patterned cushion for comfort and flare. Find natural lighting fixtures like a chandelier made from branches and purchase
wood blinds
that will further push your natural feel and will allow you to adjust lighting when a glare comes in.
2. Beachy.
Making a porch that feels like it belongs in a beach front property is a great way to obtain the feeling of serenity, regardless of where you actually live. This theme is transcended through paint colors, lighting and fabrics. Painting a porch can be a fun project because you can make it any tone you like since it's really just an addition to your home and doesn't need to completely follow your overall decor. For a beach feel, paint the walls in a bright white or a neutral warm tone. Then, paint the ceiling in a light blue or green to push the ocean feel. You can also paint the floors to further emphasize the look. Bring in comfortable couches in wicker or another material that works well with an indoor and outdoor environment, as you'll have the windows open often during the summer. Implement
window treatments
that are light and airy for a hint of privacy from your neighbors. Bring in a few beachy trinkets like seashells or a decorative sign to cap off the design.
3. Funky.
A porch can really be a place to let your design come to life. Embrace this notion by choosing a bold look for your room that is great for entertaining, as well as a place to simply hang out and relax. With this style, use your furniture and accessories to bring color to the room. Add patterned area rugs to spice things up a little and choose furniture like wicker rockers, for instance, as a comfy and easy-breazy seating option. Add pillows and chair cushions that bring out more color and help tie the rugs into the overall design. Summer is also a great time to take advantage of the fruits of nature for room additions. Bring in fresh lilacs or sunflowers and display them in the space for a breath of life. Keep the funky vibe going with vibrant window treatments.
Roller shades
may work best in this scenario, as they come in many patterns and fabrics that will help push your creative spacewhile still matching the overall decor.
Once you've selected a style you think will work best with your personality, implement a few more space-saving ideas to complete your look. Bringing in benches that can go flush against a wall in your room will add extra seating when more guests come over. Try to find some that have built-in compartments as a way to store games, blankets or anything else that may be necessary when using your updated space to the fullest.
Bookmark/Share this page: