Wood blinds are among classic looks that give a design scheme its foundation
Jul 14 2011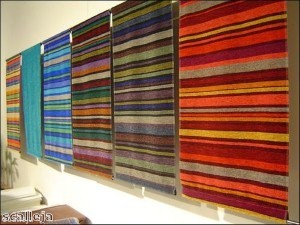 Simple rules such as considering the size of a room should determine the decorating choices of consumers.
Reality TV star Lauren Conrad learned from experience that decorating a new house can be overwhelming, from choosing
window treatments
to the latest accent colors.
On her website, Conrad, a former cast member of "The Hills," simplified the design process into five steps to get the creative juices flowing.
Conrad's number one rule is to personalize the space so visitors know by a room's accessories what an individual's or family's hobbies and interests are. Taking cues from the colors and styles in one's wardrobe can also define a home style.
Understanding a home's space limitations and surrounding environment, and making it as inviting and comfortable within those conditions are two other principles that Conrad embraces. "You can narrow down your choices based on the context of your space," she writes on the website.
Rule four: Choosing classic styles in furniture and fabrics gives a home decorating scheme a solid foundation on which to rest those personalized accessories. That applies to
window coverings
as well, such as classic
wood blinds
that are at home with both contemporary and traditional décor.
And finally, Conrad is a big proponent of "less is more." Too often, she warned, an overcrowded room will overpower the look a home decorator is trying to achieve.
Bookmark/Share this page: