Wallpaper has surprising adaptability in contemporary, open design layouts
Jul 13 2011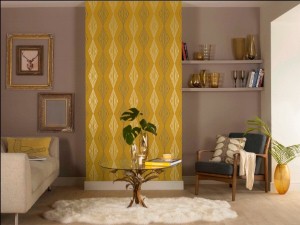 Wallpaper can be used in many different ways as a room accent.
With contemporary, open floor plans, it's difficult to strike the right balance between chic, uncluttered rooms and a look that comes across as stark.
According to The Mercury newspaper in South Africa, interior designer Joselyn Jones managed to achieve the right balance in an ultre-modern home she decorated with wallpaper throughout the home - and not always on the walls.
"A glass-encased double volume entrance hall has a feature wall covered in wallpaper that sets the tone and color palette for the rest of the downstairs living space," states the newspaper.
Room transitions are also helped along with wallpaper. For instance, white wallpaper with one striking image is used as a transitional point into the next room, where the color of the image becomes the second room's bold accent color.
Flooring is used for the same effect. Rather than use doors that might narrow down a space, Jones has chosen to make the transition from bedrooms to their en suite bathrooms by changing the floor material in each space.
In such spaces, the simplest
window treatments
work best. Soft
sheer shades
, for instance, have a contemporary, elegant look that enhances the airiness of an open room layout and allows light to filter into a room.
Bookmark/Share this page: