Room darkening window shades help ensure better sleep for 'zombie brides'
Jul 13 2011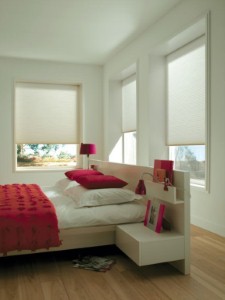 The right window treatment can help sleepers get an uninterrupted night's rest.
Anyone who has ever planned a wedding knows how stressful and time-consuming the effort can be.
But burning the candle at both ends to achieve the perfect wedding experience may leave brides - and some grooms - sleep deprived and unable to be at their best in other areas of their lives, according to the Better Sleep Council, which describes the condition as "Zombieitis."
"Sleep deprivation can make everything feel overwhelming and will alter a bride's mood on her big day," stated Karin Mahoney, the council's director of communications in a news release. "It can turn a bride into a 'Zombie Bride' and make the day much more stressful for everyone involved."
One way to ensure a good night's sleep is to select
window coverings
that make a bedroom conducive to relaxation and rest. Room darkening
window shades
will block light that may interfere with sleep.
Roller shades
that fit a variety of decors come in blackout fabrics that provide the light control needed to create a darker room.
The sleep council states that while alleviating stress can help brides get through wedding planning without compromising their health and well-being, it also has another benefit - it puts them in the best frame of mind to enjoy their special day.
Bookmark/Share this page: