Boost your bathroom's look
Jul 13 2011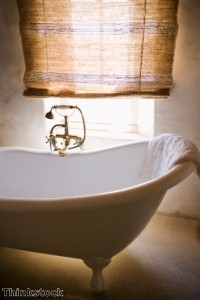 Boost your bathroom's look
Your bathroom should be a place to alleviate stress and enjoy a warm soothing bath or a steamy hot shower aimed at washing away more than just sweat and grime - but also everyday struggles. If your bathroom makes you cringe rather than relax due to dated fixtures and unsightly tile floors, it may be time to remodel your powder room now.
House Beautiful experts showcased their favorite bathroom designs - from romantic to modern - and other rooms that boast bold patterns. One of the simplest ways to change the look of your bathroom is to replace sink and tub fixtures. Choose a set that is both classic and unique - this way, years down the road, you won't be saying, "why did I ever pick this style? If you love a tub, look into getting a new one that's deep and long so you can really stretch out and enjoy a few moments of peace.
Choosing a color that is tranquil and inviting is another way to change your room drastically. Once you've selected a color, look into new
window treatments
that will add to your theme.
Roller shades
come in a variety of colors and fabrics which can easily match your design.
Faux wood blinds
is another option that comes in many finishes so you'll be able to easily match them with your new decor.
After your updates, the only thing left is to purchase a "do not disturb" sign so you can enjoy your new relaxing getaway in peace.
Bookmark/Share this page: