Working from home means it's time for a home office
Jul 12 2011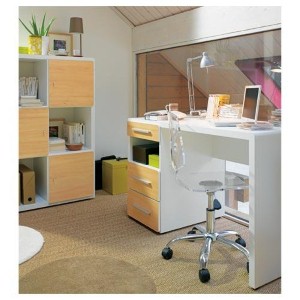 Working from home means it's time for a home office
More Americans are beginning to work at home for two main reasons - it's a way to cutback on travel costs and it enables employees to stay involved with family activities without worry. If you're considering performing all daily duties from the comfort of your home, you'll need to create a space dedicated to all things work-related.
Creating an at-home office requires a few key aspects. According to Freshome.com, you should pick a space that is both quiet and away from a busy zone. The last thing you want is to be interrupted by screaming children because your office is too close to the play area. Your work environment can be in a section of a large room, or in any small area you may have in your house. Choosing the proper furniture is a must - no ordinary table and chair will do, as you'll need to stay organized and create an actual work environment with a highly-functional desk and comfortable rolling chair in order to be productive. Adding shelving is another easy application to incorporate, especially if you're confined to a small space, to help cut down on unnecessary clutter.
Adequate lighting is imperative, as you'll need to stay focused and motivated. Natural light is a plus, but if your room boasts too much sunlight, causing unwanted glare, install
window treatments
as a functional addition to your decor.
Honeycomb shades
are easy to pull up and put down, and they allow light to flow in while keeping glare out, which may be a solution for you.
Woven shades
are a more natural approach that makes the sometimes-tedious methods of lighting seem rather effortless.
Once you've accessorized with a few personal touches, the new office in your living space will be good to go, putting you on the fast track without having to make those grueling commutes to the real office.
Bookmark/Share this page: